We're Getting Mutants in the MCU - The Loop
Play Sound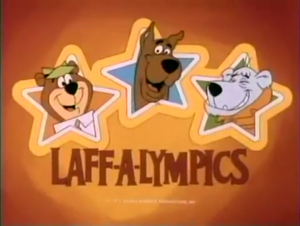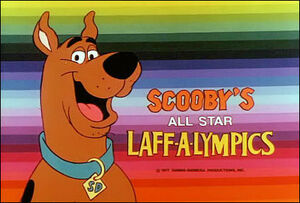 Laff-A-Lympics is a Saturday morning cartoon produced by Hanna-Barbera for ABC. New episodes were combined with reruns for the second season titled Scooby's All-Star Laff-A-Lympics. It ran 24 episodes over the two seasons from 10 September 1977 through 28 October 1978.
Summary
In a spoof of the Olympics and the contemporary series Battle of the Network Stars, Hanna-Barbera characters organized into teams and competed each week for gold, silver, and bronze medals. The "Really Rottens" team featured Dick Dastardly's brother, the Dread Baron, and was captained by Mumbly. Though they won twice and tied once, they usually lost to the "Scooby Doobies" or the "Yogi Yahooeys".
Episodes
Season One
"Switzerland and Japan"
"Mexico and England"
"Florida and China"
"The Sahara Desert and Scotland"
"France and Australia"
"Greece and the Ozarks"
"Italy and North Carolina"
"Egypt and Sherwood Forest"
"Spain and the Himalayas"
"India and Israel"
"Africa and California"
"The Grand Canyon and Ireland"
"Hawaii and Norway"
"Alaska and Tahiti"
"The Old West and Holland"
"Quebec, Canada and Baghdad, Iraq"
Season Two
"Russia and the Caribbean"
"New York and Turkey"
"South America and Transylvania"
"Monte Carlo and New Zealand"
"Louisiana and Atlantis"
"Morocco and Washington, DC"
"Canada and Warsaw, Poland"
"Siam and the Moon"
Games
A hand-held pinball game was released in 1978.
In 1979, Hanna-Barbera released a Laff-A-Lympics Old Maid card game that featured Mumbly and Dread Baron among others.
Comics
Marvel published a Laff-A-Lympics comic book series and also featured the games in the third issue of The Funtastic World of Hanna-Barbera. World Distributors and others published several Laff-A-Lympics Annuals in the UK from at least 1980 to 1982. The games were also featured in several coloring books.