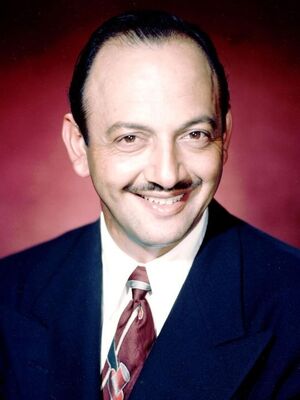 Mel Blanc (30 May 1908 - 10 July 1989) was an American voice actor and radio personality. He is best known as the voice of Bugs Bunny and most other Looney Tunes characters.
He voiced Chugga-Boom, Yak Yak, and The Bully Brothers in The Perils of Penelope Pitstop. He also voiced Captain Caveman and Speed Buggy in Laff-A-Lympics.
Career Highlights
After beginning his over-sixty-year career performing in radio, he became known for his work in animation as the voices of Bugs Bunny, Daffy Duck, Porky Pig, and most of the other characters from the Looney Tunes and Merrie Melodies theatrical cartoons during the golden age of American animation.
He later voiced characters for Hanna-Barbera's television cartoons, including Barney Rubble in The Flintstones and Mr. Spacely in The Jetsons. During the golden age of radio, Blanc also frequently performed in the programs of comedians from the era, including Jack Benny, Abbott and Costello, Burns and Allen, The Great Gildersleeve, and Judy Canova.
Blanc was nicknamed "The Man of a Thousand Voices", and is regarded as one of the most influential people in the voice acting industry.
Community content is available under
CC-BY-SA
unless otherwise noted.