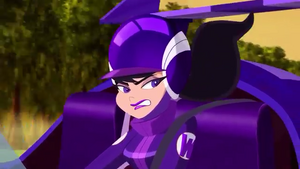 "Move it or lose it sister."
―Pandora to Penelope
Pandora Pitstop is a character in the 2017 version of Wacky Races. She is voiced by Nicole Parker.
About Pandora
Pandora is the twin sister of Penelope Pitstop. She wears a purple race suit and she has black hair. She grew up in her sister's shadow. On one occasion, Penelope won a talent contest by just taking a step.
Trivia
Nicole Parker also voiced Penelope Pitstop in the same series.
In flashbacks she is talented but without doing anything, Penelope gets the credit.
Gallery