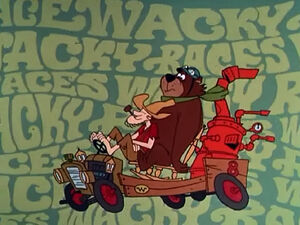 The Arkansas Chug-a-Bug is the vehicle driven by Lazy Luke and Blubber Bear on Wacky Races.
About the Arkansas Chug-a-Bug
The Arkansas Chug-a-Bug is the number 8 car. It is constructed of wood and is powered by a coal-fired pot-bellied stove in the rear of the vehicle. In an episode titled "By Rollercoaster to Upsan Downs", the car had a squirrel as a major component of its engine; Luke fed the squirrel Hot Roasted Peanuts to increase speed.
Gallery
Community content is available under
CC-BY-SA
unless otherwise noted.