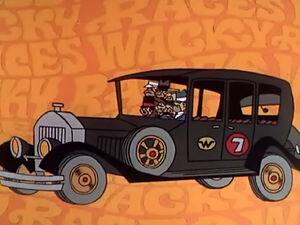 The Bulletproof Bomb or The Roaring Plenty is the vehicle driven by The Ant Hill Mob in the Wacky Races.
About the Bulletproof Bomb
The Bulletproof Bomb is the number 7 car. The car's model is reminiscent of standard early 1900s American motor cars. It sports a grey and black body with yellow wheels.
The Bulletproof Bomb is equipped with three spare tires for breakdown purposes, although they are never used. The dashboard features a built-in police radio tracker, which is useful for monitoring highway police transmissions to avoid capture. The exhaust features machine guns for an alternative speed boost power. The Ants themselves keep countless guns, violin cases and other "ill gotten gained", at one point was dispensed with to lighten the load. The Ant Hill Mob keep their own personal revolvers at hand, to fend off rivals and police and even assist fellow racers against common opposition. The trademark power-up of the Bullet-Proof Bomb is "Get-Away Power", in which the Ant Hill Mob (except Clyde) add their leg power to the car's speed in similar manner to Fred Flintstone.
Trivia
The Bulletproof Bomb did not appear in The Perils of Penelope Pitstop; the similar but animated Chuggaboom took its place.
The Bulletproof Bomb is never named onscreen, (apart from the opening titles) a fate held with The Army Surplus Special. It goes by the name of The Roaring Plenty in "The Overseas Hi-Way Race", Gold key comic book series and some merchandise.
Gallery