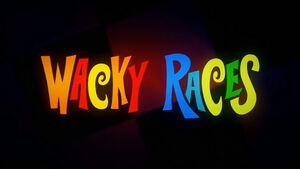 Wacky Races is an animated program from Hanna-Barbera and Warner Bros. It is a reboot of the original 1968 series, Wacky Races.
Like the original, the drivers race through different places around the world. This series also focuses on their lives outside the races. Sometimes they do not compete, or are reimagined in different historical times.
Races
"Uncle Dickie's Happy Sunshine Children's Hour"
"Peter 2.0"
"Little Pink Riding Hood"
"Punky Races"
"Ragnarok & Roll"
"Wacklantis"
"Game On"
"Much Ado About Wacky"
"Far and Away in Old Bombay"
"The Wacky Always Races Twice"
"Mummy Madness"
"King Solomon's Races"
"The Trial of Dick Dastardly"
"The Wack Stuff"
"Dog Gone Dastardly"
"The Purple Ray from Outer Space"
"Attack of the Mega-Muttley"
"Wackier Than Fiction"
"Never Too Old to Wacky"
"Wacky Wizards"
"Super Wacky"
"Signed, Sealed and Wacky"
"Wacky Races the Movie"
"Wack to the Future"
Characters