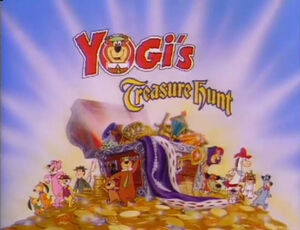 Yogi's Treasure Hunt is a television series produced by Hanna-Barbera. It ran twenty-seven episodes from 2 September 1985 through 25 March 1988.
Summary
Top Cat assigns Yogi Bear and his friends to hunt for treasures, traveling around the world on their ship, SS Jelly Roger. Meanwhile, Dick Dastardly and Muttley, aboard their own ship, SS Dirty Tricks, would use dirty tricks to try to find the treasures first.
Episodes
Availability
Hanna-Barbera Home Video released three episodes of the series each on individual VHS tapes in Spring 1990 to promote the opening of The Funtastic World of Hanna-Barbera simulator movie ride at Universal Studios Florida.